This website has a product selector so you don't have to get too involved in understanding the ins and outs of identifying your bar and chain.
If you buy a bar, chain and drive sprocket together then these will all be compatible with each other. The selector guides run off a database that in turn is based on standard information for new chainsaws.
If your chainsaw is second hand or an older model, someone may have fitted a non standard bar, chain or drive sprocket.
It is always worth looking at your existing equipment in order to understand the basics of bar, chain and sprocket identification.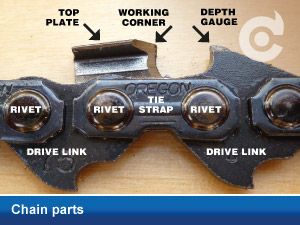 The basics
There are 3 fundamental measurements when talking about bars and chains – pitch, gauge and the number of drive links.
Pitch
On this website 3/8″ is often referred to as .375″ and 1/4″ as .250." Pitch is the measurement between any three consecutive drive rivets divided by 2.
A simpler way to look at it is pitch measures the size of the chain, it will be one of 5 measurements.
1/4 is the smallest size chain
3/8 lo pro (also called '91' by Oregon and 'Picco' by Stihl) for smallest saws
.325 mid size/smaller saws
3/8 for mid size saws
.404 the largest for 90cc+ saws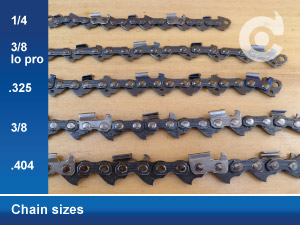 The difference between 3/8″ & 3/8″ lo pro.
A difficult idea to grasp. The 3/8″ lo pro chain is different to 3/8″ standard. In the picture below, you can see the two chains share the same pitch but are different sizes. A 3/8″ lo pro chain will not work with a standard 3/8″ sprocket and vice versa. Stihl call their 3/8″ lo pro chain a picco chain and often have 3/8″ p.
3/8 lo pro chain usually has a gauge of .050 and is used on small chainsaws. 3/8 standard chain is used on mid size saws up to and including 90cc.
The pitch of the chain must match the pitch of the drive sprocket / drive rim and this must match the end sprocket of the bar. If these elements don't match then damage will occur.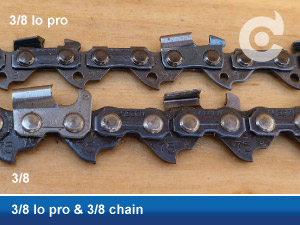 Gauge
This is the thickness of the drive links
The drive links are the part of the chain that sit inside the bar. They are not the actual chainsaw cutting teeth. The gauge is often written on the bar. It may be in inches or millimetres:
.063″ or 1.6mm
.058″ or 1.5mm
.050″ or 1.3mm
.043″ or 1.1mm
The gauge on both the bar and chain must match up. Too wide a chain gauge and the chain will not fit into the bar. Or it may fit into the bar but will need force to do so. Too narrow a chain gauge and the chain will be sloppy in the bar causing poor cutting and rapid bar wear.