To get the best performance out of your chainsaw, it is important to maintain your chainsaw's guide bar. Oregon have a maintenance manual that can be downloaded by clicking the link below.
Bar maintenance & rim change
on the Husqvarna 390XP
Bar maintenance when changing a chain
Clean the bar groove out with a bar groove cleaner
I tend to clean the hardened sludge out of the bottom of the bar then blow it clean with a compressor to clean out the oil holes.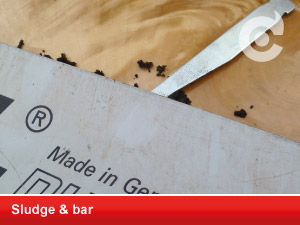 Dressing the bar
Slowly the chain will start to make a track in the bar. If this gets larger it can damage the chain. This means faster bar damage which means faster chain damage and the problem escalates! When you take the bar off, dress the rails with a rail dresser. This will skim the rails and get them square, ready for the new chain to run on.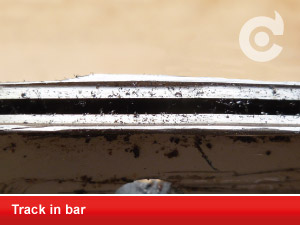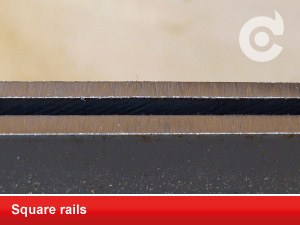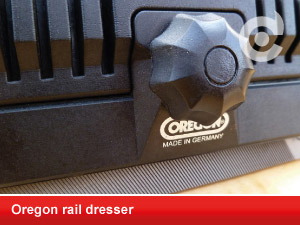 Grease the end sprocket
To grease the end sprocket, you will need a grease gun and pump.
Oiling the chain
Dip your new chain in bar oil and hang it up for a few minutes before fitting it. There is huge wear and friction in a chain that is fitted unoiled to a bar.
Turn the guide bar over
Guide bars wear faster on the cutting side so by rotating the bar you'll get even wear and longer bar life.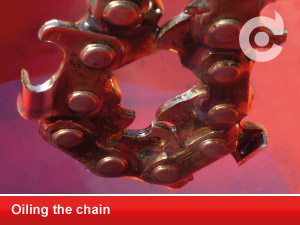 Fit chain to bar and tighten
Chain tension is a tricky thing to describe. As a rule of thumb when you pull the chain out, it should come out so the bottom of the drive link is touching the bar. When you let go it should snap back into place.
Run up the bar and chain
Stop and re tension. After doing some cutting stop and check tension again.