Identifying sprockets and rims
Sprockets are the hardest to identify and sometimes it's just not possible. Usually the pitch will be stamped on a rim or sprocket.
Sprocket ID example 1
Stihl picco (3/8 lo pro) spur sprocket with 6 teeth.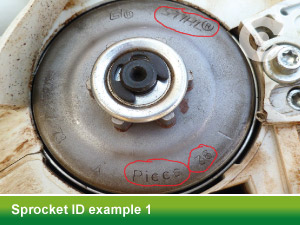 Sprocket ID example 2
Stihl .325 pitch spur sprocket with 7 teeth.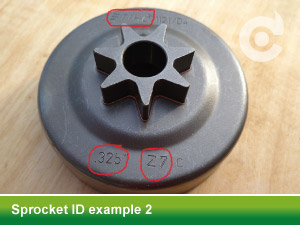 Rim example 1
Oregon Powermate .325 rim with 8 slots.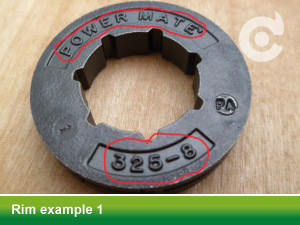 Rim example 2
Stihl 3/8 pitch rim with 8 slots.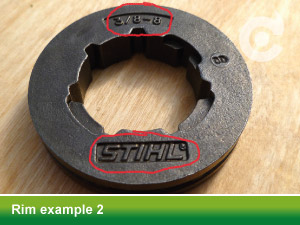 Bar nose ID
Identifying a bar is easy as long as the writing on it is still legible and the paint is intact. The information we need to know is the length (usually in inches) and the bar gauge (which will correspond to the chain gauge). If the bar has a nose sprocket it is useful to know the nose sprocket pitch)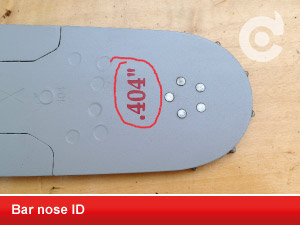 Bar ID Example 1
Stihl Picco bar 10″ Type Rollamatic E Mini Light.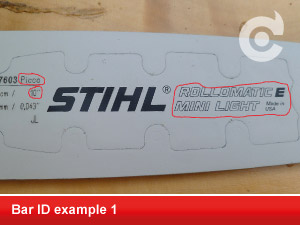 Bar ID Example 2

Oregon bar 173RNFE031. The main thing to realise is the first 2 numbers refer to the bar length in this case 17″. The third number relates to the bar gauge .063″ (or 1.6mm).

Information for the remaining numbers on the bar this can be found by clicking the link below.
Click here for the Oregon bar identifier chart
Click here for the Cannon bar identifier chart