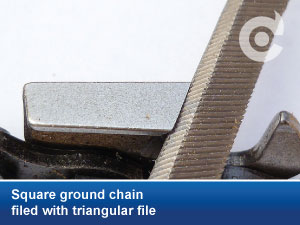 Forest Applications Training sharpening guide
We stock a 404 square ground skip link chain for fast cutting with larger saws. Sharpening square ground chain correctly is tricky. You can use a square file or a grinder. Square ground chain is for experienced pro users only.
Sharpening with 12 volt sharpeners
There are several grinders on the market. But here we'll focus on the Granberg 12 volt grinders. To my mind these are the fastest way of getting a chain sharp and back to work.
The hand held grinder is very fast way of putting an edge back to blunt teeth. A 20″ chainsaw can be sharpened and back to work in less than 3 minutes. However after 3 sharpenings teeth can start to become different lengths and then either more attention must be paid to sharpening or the The precision grinder can be used.
The precision grinder may look a little fiddly to start with but once you get the hang of it, it is fast, accurate and gives you the same finish on every tooth. You can choose a range of stone sizes and these will be the same as a regular round file. Another advantage of these grinders is that they give a good edge without heating or blueing the tooth.
Changing your chain
Dip your new chain in bar oil and hang it up for a few minutes before fitting it. There is huge wear and friction in a chain that is fitted unoiled to a bar.
A word on chain tension
Chain tension is such a tricky thing to describe. As a rule of thumb when you pull the chain out it should come out so the bottom of the drive link is touching the bar. When you let go it should snap back into place.
Powersharp
Powersharp is a new system for small chainsaws of 45cc and under. It works extremely well and allows automatic fast chain sharpening for home users. When going through the bar selector guide if Powersharp doesn't show as a buying option then you can't use it with your chainsaw. You must use a Powersharp chain with a Powersharp bar.
Why do we no longer stock Powersharp? It was a great innovation however after dulling the chain the system could never get it cutting the same again. It is still an ok option for the jobbing home owner however we favour correct sharpening techniques for those who use a chainsaw.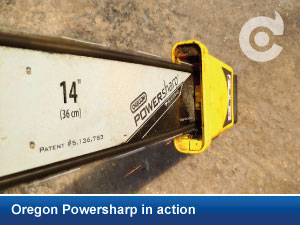 Review of the Oregon Powersharp system