Which bar fits what saw?
.
An overview of Sugi bars – Sugihara chainsawbars come in 3 types
.
Sugihara Pro Laminated Bars
These bars are similar to the Oregon Pro lite and Pro Am and Stihl Rollamatic chainsaw bars. They feature a sandwich construction where 2 pieces are welded together with the internal space filled with a punched blank. These are less expensive to produce and can be made lighter in weight.
Sugihara Pro Solid Red Label Bars
Formed and cut from a single piece of steel the pro solid bars have the best durability and stiffness characteristics. They are lacquered rather than painted. Ultimate durability and performance mean this is the benchmark bar. These bars carry a red label.
Sugihara Light Type Pro Black Label Bars
The light type bars are effectively the solid bars but with sections carefully removed then filled with resin. This helps retain all the characteristics of a solid bar yet makes the bar lighter. Light type Sugihara bars are the most sought after due to their high performance and lighter weight. They are easily recognised by the white resin sections and black labels.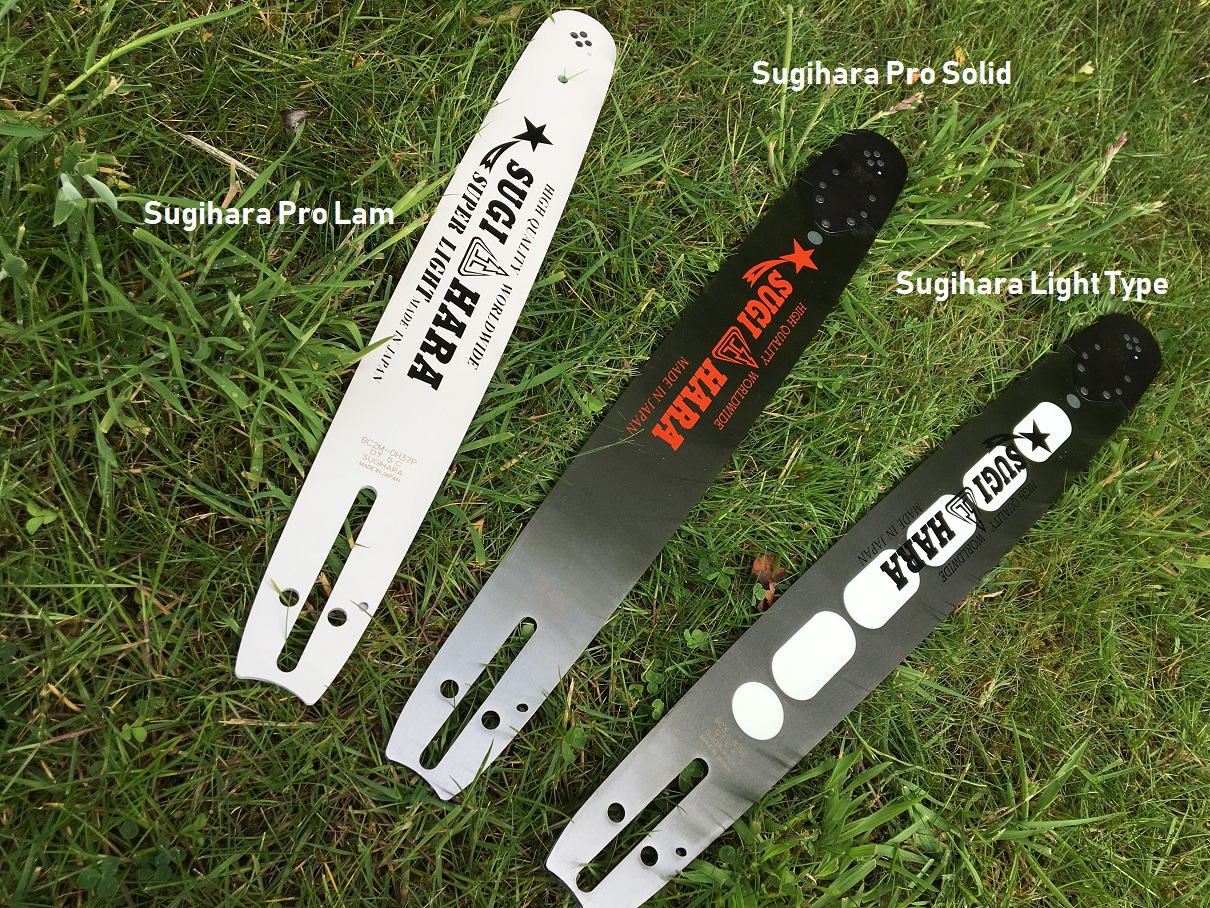 Further video viewing
For more details on Sugihara bars and to view the full range visit

www.sugiharabarsuk.co.uk

. The bars that appear on CSB are the standard pitch and gauge but we stock several other options on most mounts.
To see more info on bar numbers then

click this link

here which takes you to our pdf listing all guidebars as well as information on that various bar numbers refer to.
'Sugihara chainsaw guide bars for the professional market. Sugihara have manufactured chainsaw guide bars in Japan since 1957. The factory was started by Hideo Sugihara and has been run by the Sugihara family ever since with knowledge passed from father to son. There are even several generations of workers whose fathers and grandfathers started working for the Sugihara family under Hideo Sugihara. These guide bars have always been produced in the same factory by the same people.
Steel has different properties depending on how it is heated then cooled. Sugihara chainsaw guide bars go through the process of heating and cooling up to 4 times on different parts of the bar for maximum performance. The rails are accurately cut and then hardened as much as possible without becoming brittle. The bar body needs to be less hard but still needs to be stiff enough for good control whilst maintaining flexibility.
Sugihara chainsaw guide bars durability and strength Sugihara rails measure on a hardness scale HRC 60. Compare this to Stihl at HRC 57 and Oregon at HRC 55. Sugihara chainsaw guide bars are so hard they resist most flat files when it comes to bar dressing. They also come in a huge range from the smallest 8′′ dime tip carving bar up to a 46′′ Pro Solid bar. If you are serious about your tree cutting equipment and you want the best guide bar on the market, then fit a Sugihara bar.'